Start Your Own Private Label Site of Search Engine Promotion Tools!
Our Private Label Partner Program gives you the opportunity to partner with us and operate your very own premium search engine submission optimization system and have the potential to earn thousands each and every month.
This system is fully automated (with over 20 Powerful SEO Tools), which means that all you need to do is promote your new site and the system does the customer admin like handling new subscriber sign ups, billing, and collecting membership fees for you - automatically!
Here's your chance to own your very own PROVEN Internet business by offering the most powerful commercial grade search engine submission and optimization resources online, and earn a residual income every month from YOUR subscribers, then take 3 minutes and keep reading.
And now, for a limited time we are offering our full private label submission system that has sold for $699.00 in the past, for only $397.00!*
This is a limited time offer so act NOW!
This special pricing ends Sept 15th, 2007 OR until all available private label slots are filled.
We are only selling 25 at this price Only (7) left so act now.
This is your chance to own a real Internet business that's
backed by over $250,000.00 worth of development & programming.
The following is a screen shot of one of our partners CURRENT earnings for the first 24 days of June 2008
Remember this is a subscription based service as such, it is residual income
(meaning every month you get paid by your members!)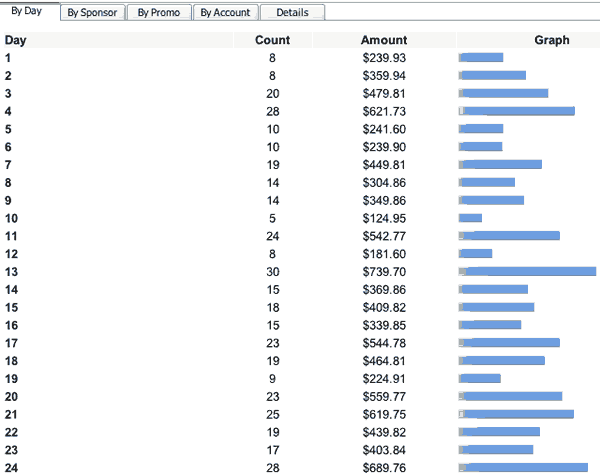 That's over $9700.00 in just the first 24 days of the month. Or an average of over $400.00 a day!
Now we can't and won't promise you'll do as well. The truth is that you might do better or worse depending on your marketing and promotion. But "what if" you just earned an extra $500.00 a month? Would that make a difference to your lifestyle?
This is a great opportunity for online entrepreneurs, web site owners, web hosting companies, web design firms and marketers that who want to offer a "value added service" to their customers - and make residual income doing so.
Our Search Engine Promotion Full Partnership includes:
Complete hosting of the system for you (NO HOSTING FEES), which relieves you of the responsibility of the maintenance, bandwidth, and hosting costs. This also ensures your members receive the high speed uninterrupted service that they have grown accustomed to.

Your submission service will be listed under YOUR domain name.
Example: http://www.yoursubmissions.com (domain name not included)

Our company name is NEVER displayed in ANY location on your private labeled system! This is YOUR business with our backing! 100% automated!!

Full custom branding of your Premium submission system to ensure congruency with your existing Web site You can choose from one of our templates, or design your own site, or use your current web site design to integrate the service into your current business

YOU COLLECT ALL PAYMENTS - Our system is designed to seamlessly integrate into your own merchant account system. such as, Authorize.net, Link point, Skipjack, PRI, Paysystems, concord, and many others including Paypal.
And when we say this is your business we mean it.
Our name is NEVER displayed in ANY location on the system!

Full co-branding of your Premium submission system to ensure congruency with your existing Web site

You can choose from one of our templates, design your own site, or use your current web site design to integrate the service into your current business.

Your own administrative control panel controls all aspects of the systems operation.

We're invisible. We will NEVER contact your clients EVER, unless you give us express written consent to do so.

This is YOUR business with our complete backing!

All the features of the Search Engine Promotion system are yours and branded to you or your company.
Your private labeled system will include the:
Automatic Search Engine Submitter, Link Popularity Checker, Search Engine Ranking, Keyword Density Analyzer, Keyword Generator, Top Keywords, Link Checker, and the Doorway Page Generator!
And any and all search engine database updates we do are yours free as well. These search engine database updates are done 3 times per month, so your users always have the highest submission rates - and you don't have to lift a finger!
You'll also get complete back end technical support at no additional charge. Simply send us your client's tech questions via email, we'll respond with an answer to YOU directly, and then you can forward that answer on to your client. Talk about simple!
The benefits of getting your own SEPT system are:
We can have your complete SEPT submission system branded and up and running in 3 days or less!

Your business will benefit through unlimited exposure of your existing products and services to an ever-growing membership of Webmasters.

Add an additional lucrative income stream. As administrator, you maintain the built in resources page on your Premium Submission Web site, and it is up to you to decide what products and services you advertise in this heavy traffic area of your partner Web site

You'll benefit from multiple income streams from the successful operation of your Premium submission system, firstly through membership of those users that join your paid membership, and secondly through the advertising revenues that this program creates.
Private Label Revenue Breakdown:
As the administrator of your own Search Engine Promotion submission system you will receive 70% of the total revenue generated by your site this includes revenue generated by memberships.
Ready To Get Started?
Set up fee includes: programming set up &installation, your choice of ready to use web site templates if required - or we can use your existing site design as a template, all database updates are free, and there are zero hosting or bandwidth charges.
This is a limited opportunity: We are limiting the number of private labeled systems we will sell in order to protect the earnings of our existing private Label partners.
Get your own professional search engine submission and optimization system.
Was $699.00 now only $397.00
Online Purchasing:
Ordering is fast, easy and completely secure.


This special pricing is only good for 5 days and will end Sept 15th and is limited to the first 25 Orders. Only 10 left! Act Now!
Or call us 314-835-1510 to order or to have any questions about this limited opportunity.